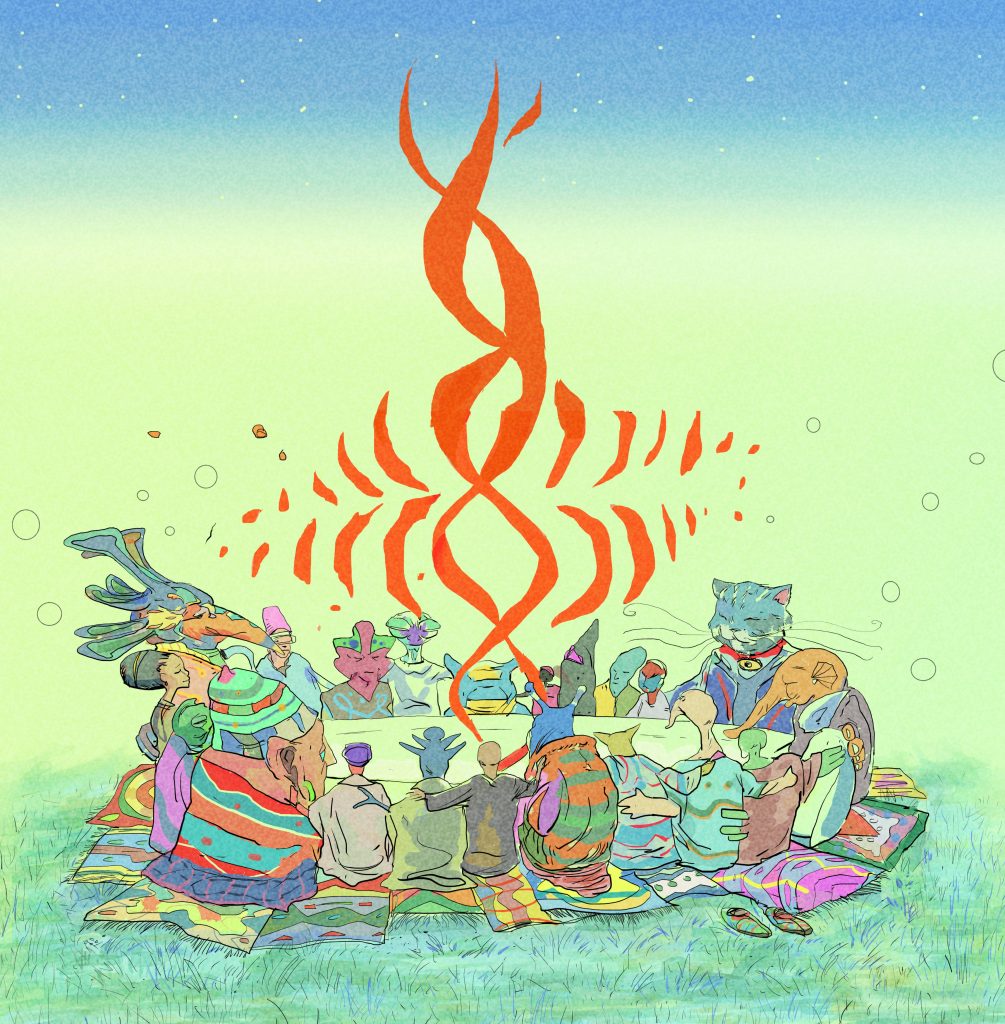 "I wanted this to be my most open record, uncynical, naive, unguarded, the record teenage me wanted to make," says electronic explorer James Holden of his generically unconstrained new album of rave music for a parallel universe Imagine This Is A High Dimensional Space Of All Possibilities. "I used to balance my clock-radio on a wardrobe to catch the faint pirate FM signals from the nearest city, dreaming of what raves would be like when I could finally escape and become a New Age traveller. So it's like a dream of rave, a fantasy about a transformative music culture that would make the world better. I guess it's also a dialogue with that teenage me."
The New Age traveller lifestyle may have ultimately eluded Holden, as by the time he was old enough to actually go to raves the UK's infamous Criminal Justice Bill of 1994 had long since clamped down on the traveller free party circuit, and instead in 1999, when he was just nineteen years old, he fell into a professional career in the more commercialised end of dance music after an early 12" (Horizons) was picked up by a Sony Music-backed trance imprint. But here and now, with this latest album offering that tops off a musical career spanning over twenty years, Holden is seeking to recapture that feeling of hope, freedom and possibility (both musical and otherwise) that characterised those venerated earliest days of dance music, when the boundaries of the distinct genres as we now know them had yet to crystallise, and a starry-eyed teenage Holden was still dreaming in the bedroom of his Leicestershire village.
Standing in contrast to the expanded band and live take recordings of its predecessor The Animal Spirits ("Dramatic, colourful and Holden's fullest-sounding work yet" 9/10 Loud And Quiet), Holden's fourth solo artist album is more of a continuous sound collage, artfully juxtaposing audio worlds in his own inimitable manner, with a respectful hat tip to the pastoral classics of his early nineties youth (notable mentions to The KLF's timeless Chill Out, and the sprawling radio soundscapes of Future Sound of London). But where his first wave forebears pilfered freely from the history of recorded music to date, Holden's sample sources are custom generated, drawn from recordings of his own performances on the modular synth, keyboard, organ and piano plus the lesser explored drones of his childhood violin, cut-up bass guitar, overblown recorder, all manner of percussive trinkets and the serendipity of the odd field recording, as well as guest contributions from various members of the wider Animal Spirits live family: long-time touring companion drummer Tom Page, tabla-championing percussionist Camilo Tirado, multi-instrumentalist for hire Marcus Hamblett (here, on double bass and guitar) and saxophonist Christopher Duffin (on loan from Xam Duo and Virginia Wing).
Some of the references here undeniably draw from the past: Trust Your Feet is dominated by the most unashamedly ravey stabs Holden has ever played, yet by the end has seamlessly unfurled into a hand-drum-and-flute campfire singalong, whilst the more Balearic Common Land's pairing of percussive bird samples with the evocative reverberating saxophone of Christopher Duffin casts it as a distant cousin of 808 State's Pacific State. But this anything goes approach also welcomes contributions from the left of field: the bold piano flourishes and trembling violin which emerge seamlessly in the middle of jolly Sabres of Paradise-esque tabla jamboree Contains Multitudes; an unexpected dalliance with the slap bass on the fantasy alliance between John Cale and Simple Minds that is the audacious Worlds Collide Mountains Form; the overblown recorder that heralds beatific mellotron, squealing synths and soaring guitars on ceremonial march in the style of Popol Vuh The Answer Is Yes; and to close proceedings, the expressive pitched tabla motifs which punctuate melancholy outro You Can Never Go Back, as played by Camilo Tirado.
Holden is an artist who has traditionally found it difficult to settle, no sooner finding himself momentarily aligned with one musical milieu before he is off onto the next thing. But Imagine This Is A High Dimensional Space Of All Possibilities also seems to represent a coming-to-terms with his own musical past, with subtle nods and callbacks to notable moments in Holden's twenty year long sonic history: the undulating dancefloor melancholy of In The End You'll Know and the spiralling kinetic pixie arpeggios and hazy vocals of Trust Your Feet and Continuous Revolution awaken the distant memory of his erstwhile career as an international DJ and remixer to the stars, whilst the driving synth and drum, pagan thud, synthesized strings and woozy shimmering nostalgia of his landmark The Inheritors era (Resident Advisor 'Album of the Year') remains omnipresent (Continuous Revolution, Worlds Collide Mountains Form, The Answer Is Yes, Infinite Fadeout), albeit with a somewhat lighter and brighter sheen.
"It's full of things I've come to terms with – I've always hated the call of a woodpigeon, synonymous with unending suburban weekend boredom for me, but they're in there [Four Ways Down The Valley]. Or, despite learning both piano and violin I never used either on my records, ashamed of my playing and turned off by their connotations but I'm happy they're both in there too [Contains Multitudes]. And for a while in the mid 2010s I couldn't hear dance music anymore, a single kick drum had me lunging for the skip button, but I've found my way back to that – reclaiming the bits I liked (the hypnotism, the utopianism, the wide ranging cross cultural freedom) and leaving behind what I don't need." And as if to prove he means business, after a prolonged absence of almost ten years Holden has recently dipped his toe back into the remixing culture where he built his name, with XAM Duo (Sonic Cathedral), GoGo Penguin (Blue Note) and Lost Souls of Saturn (R&S) the latest blessed recipients of a Holden rework.
The hefty album title (Imagine This Is A High Dimensional Space Of All Possibilities) meanwhile is suitably suggestive of the utopian sense of hope, freedom and transformative potential that resonated throughout early rave culture, but it was actually discovered scrawled in Holden's own notebook after a long night of delirious hyper-focussed coding, as a message to his future self. Holden is a long-time advocate of Cycling74's Max/MSP programming language, and most recently he has used it to build an ambitious custom modular sequencing and synthesis environment to facilitate his live performances, which he also (in keeping with his collectivist impulses) plans to make available to other budding music makers via his website. "A song isn't the recording that starts at 0:00 and finishes at 4:32 or whatever," he explains. "It's the system, the rules, the limits, the relationships contained in it, and it could've turned out so many other ways. If a song had only two midi controls to play the whole thing you could map it to a walk around a 2D map, but a real song is a journey in some kind of high dimensional space, and also the knowledge of all the other journeys it could've been. Probably a metaphor for life, I dunno."
Imagine This Is A High Dimensional Space of All Possibilities will be released via Holden's own proudly DIY Border Community label on 31st March 2023, on double vinyl, CD, digital download and streaming (pre-order now via our Bandcamp, or support beloved independent record shops like Bleep, Resident, Norman Records or Drift). For the album's distinctive hand drawn artwork and accompanying twelve page comic booklet insert, Holden called upon Amsterdam-based illustrator and musician Jorge Velez to help flesh out the visual component of the immersive fantasy world that is conjured up in Imagine This Is A High Dimensional Space of All Possibilities. The result is a twelve panel storyboard (one per track) documenting the rave rituals of an alternative reality populated by magical creatures, which owes much to the pair's shared love of the soothing retro-futurist colour palettes of the late and truly great French cartoonist Moebius.
james holden + hieroglyphic being @ kunstencentrum viernulvier, gent, belgium
james holden (ambient dj set) @ dawdle, limehouse town hall, london, uk
"James Holden bends electrical arcs into mesmerising wavelets, creates reverent breakbeats for alien beings, and constructs sand, air, and fire from synthesis alone."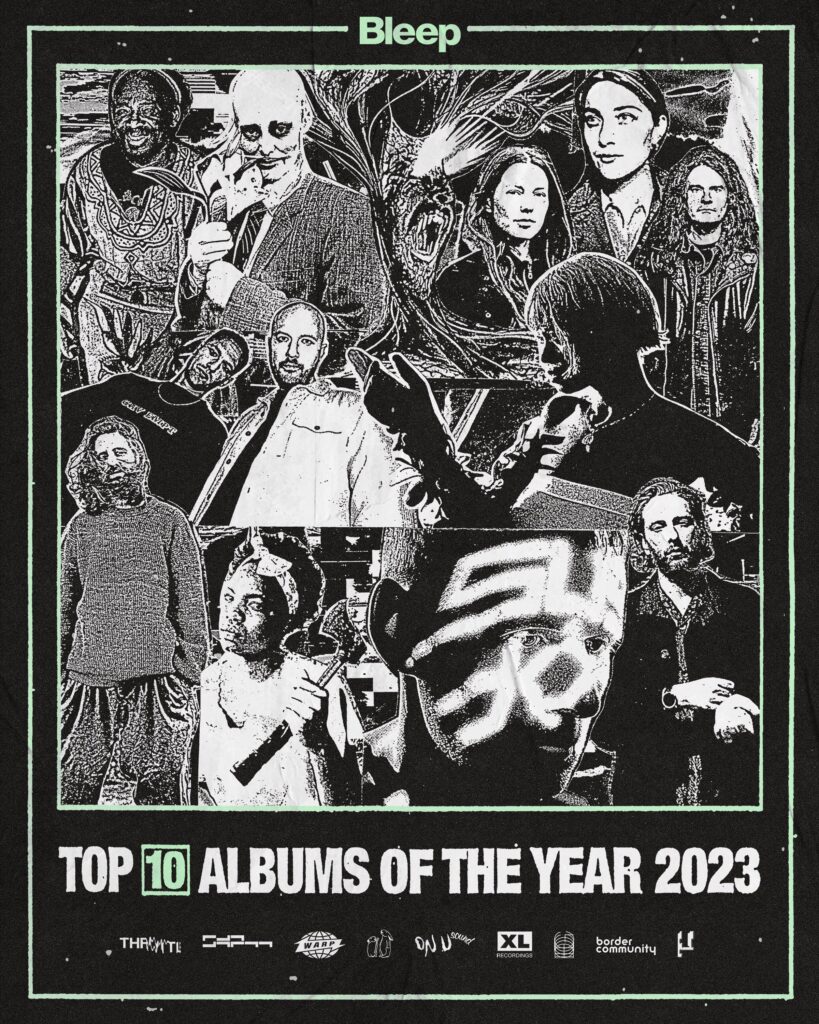 – Bleep have placed James Holden's Imagine This Is A High Dimensional Space Of All Possibilities at number nine in their Top 10 Albums Of The Year 2023 list, and are offering a bonus sticker pack of Jorge Velez illustrations with purchases of the vinyl as part of their end of year promotion: GO>>
james holden @ carte blanche to rewire, le lieu unique, nantes, france