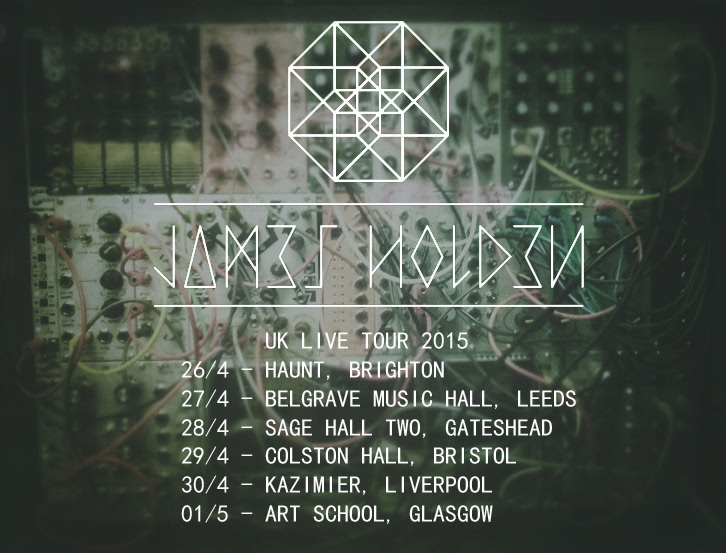 Modular synth mastermind and DJ-turned-live-performer James Holden is set to embark on his first ever live tour of the UK this April. Along with his new band incarnation, he will be playing in Brighton, Leeds, Gateshead, Bristol, Liverpool and Glasgow. Holden is joined by jazz drummer Tom Page on all dates, where synth and drums go head to head in an improvised re-imagining of Holden's most recent album The Inheritors.
Although there have been plenty of James Holden DJ outings across the UK over the years, any live performances were previously reserved for the solitude of his own home studio, in the form of in-the-moment sessions and first takes which form the basis of Holden's recording processes. It was Caribou's Dan Snaith who first gave Holden the idea to transport his hitherto studio-bound modular rig into the live arena, with an invitation to join Four Tet, Sinkane and a bonus brass section (and for one show, the legendary Sun Ra Arkestra leader Marshall Allen) in the 2011 line-up of the Caribou Vibration Ensemble supergroup. Holden's synthesized arpeggiations can be heard adorning the recent CVE Live 2011 LP, including a hypnotic bleepy modular synth solo breakdown on the 13-minute extended version of Caribou's anthemic 'Sun'.
But it would take an impossible-to-turn-down invitation from none other than Thom Yorke to convince Holden to finally assemble his own live touring outfit, with a request to support Yorke's Atoms For Peace on their 2013 North American tour. Holden had long been a fan of Tom Page's brotherly synth-and-drum duo Rocketnumbernine (whose recent collaborators also include Neneh Cherry and Four Tet), so Page was the natural first choice to complement Holden and his portable modular set-up in reworking the tracks from his recently released album. Many rehearsals and one US arena tour later, and the transformation was complete.
Following their return to the UK, the newly-formed synth-and-drum duo of Holden and Page have continued their live adventures over the past year with festivals and one-off shows across Europe (occasionally joined onstage by the improvisational flourishes of French saxophonist Etienne Jaumet, schedules permitting), including UK festivals Latitude, Field Day, Festival No. 6 and Meltdown. And such is the nature of improvisational music that the more the pair play together, the more connected their performance becomes. Which is why, although a little belated in terms of the usual album promotional cycle, there really couldn't be a better moment for them to grace the UK with a full tour.
London meanwhile will have to wait a little longer for another James Holden full band show, but in the interim it can look forward to a special one-off James Holden performance on 9 April at the Barbican. The event, billed as Hello, Terry Riley, will see Holden's trademark arpeggios intertwined with the tablas of Camilo Tirado in a new piece inspired by the works of legendary American minimalist Terry Riley. Young Turks' Koreless and Border Community's own Luke Abbott will also perform their own Riley-inspired pieces, and the event will be repeated at Amsterdam's Muziekgebouw on 11 April as part of their World Minimal Music Festival.
9 April – Hello Terry Riley @ Barbican, London (with Luke Abbott & Koreless) Tickets
11 April – Hello Terry Riley @ Muziekgebouw, Amsterdam (with Luke Abbott & Koreless) Tickets
26 April – Haunt, Brighton Tickets
27 April – Belgrave Music Hall, Leeds Tickets
28 April – Sage Hall Two, Gateshead Tickets
29 April – The Lantern, Colston Hall, Bristol Tickets
30 April – Kazimier, Liverpool Tickets
1 May – Art School, Glasgow (with support from Karen Gwyer) Tickets